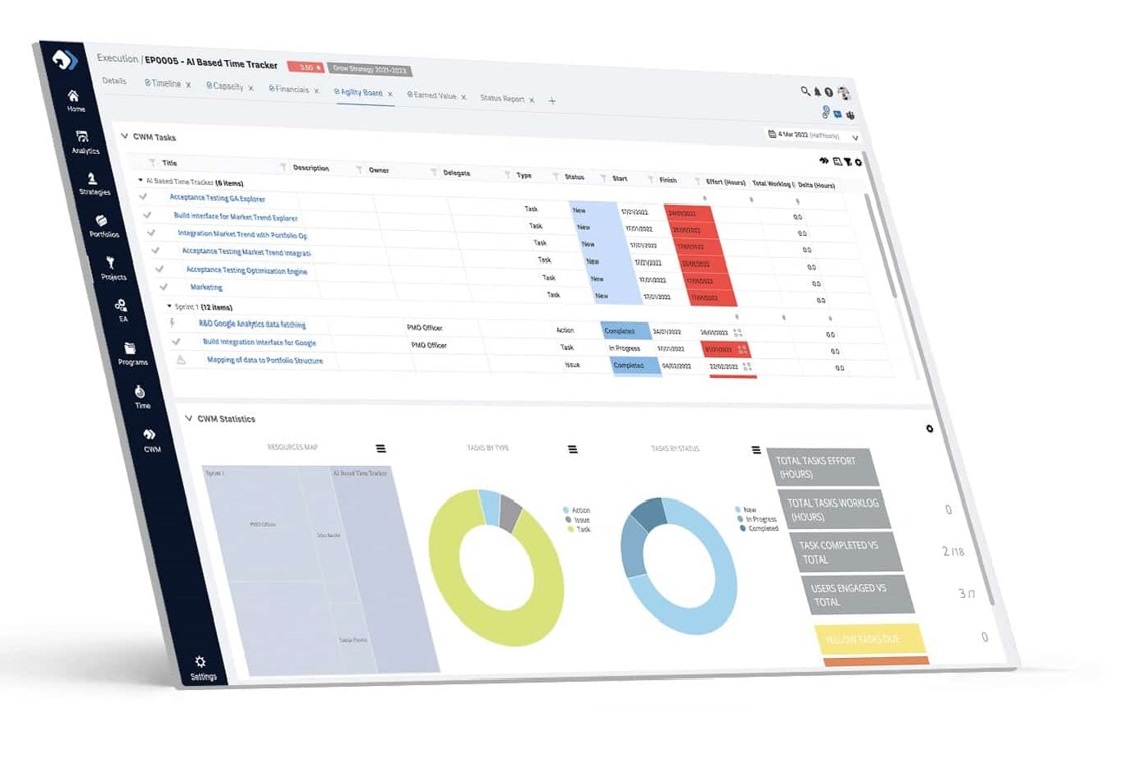 Gartner is a game-changer for many IT companies. Here's why.
All you need to know about Gartner
Gartner is a company that helps business leaders make decisions about the future of their organisations. Gartner is a great resource to turn to if you're looking for help making strategic decisions for your company.
But who exactly is Gartner, what do they do, and why is Gartner relevant?
This post contains all you need to know about Gartner.
Who is Gartner?
Gartner is a leading research and advisory company that provides insights, advice, and tools for leaders in IT, finance, HR, customer service, and support.
Its current CEO is Gene Hall. The company has about 15,000 employees worldwide.
Gartner serves more than 13,000 clients in over 100 countries. These clients include major corporations, government agencies, technology companies, and investment firms.
Gartner's primary focus is on helping its clients make better-informed decisions about technology. The company does this by providing analysis and insight into the latest trends and developments in the IT industry.
Additionally, Gartner offers consulting services to help organisations plan and implement new technology initiatives.
When Was Gartner Founded?
Gartner, Inc was founded in 1979 by Gideon Gartner and David L. Stein. The firm began as a private company before going public as Gartner Group in 1986. It subsequently got acquired by Saatchi & Saatchi in 1988 for $90.3 million. It became a public company in 1993 and was renamed Gartner Group to Gartner.
How does Gartner Work?
Gartner is a global research and advisory firm that helps businesses navigate the digital world. How do they produce these reports?
Gartner begins by speaking with industry experts and conducting their primary research. They then analyse this data and produce insights that help businesses make better decisions.
To ensure accuracy, Gartner constantly updates their reports with the latest information. As a result, their reports are widely respected and used by businesses worldwide.
Gartner is often quoted in the media, and industry professionals highly respect their reports.
However, not everyone agrees with everything they say. Some have criticised Gartner for being too optimistic about certain technologies, while others argue that their reports are biased towards certain vendors.
Nonetheless, Gartner remains a leading authority on all things business, and their insights are well worth considering when making decisions about your company's future.
What does Gartner do?
Gartner provides practical insights, advice, and tools for businesses to make faster, smarter decisions and achieve better results on their major initiatives. They conduct research and analysis in several areas, including technology, marketing, and strategy.
Where is Gartner Incorporated?
Gartner is currently incorporated in Stamford, Connecticut, USA.
Where is Gartner Located?
There are Gartner offices located in several regions. You can find them in The USA, Canada, Australia, Japan, The United Kingdom, Brazil, South Africa, Israel, Qatar, etc.
What is a Gartner Report?
Gartner reports are analyses of the latest trends in specific industries or technologies. They provide insights into what is happening in the market and how it will affect businesses.
Analysts at Gartner typically write it. Gartner reports can be helpful for business leaders who are looking to make decisions about the future of their organisations.
Are Gartner Reports Free?
Gartner reports are not free to obtain. To request a complimentary copy, fill out the form on the Gartner website. Include your name, email address, and name of the report.
Once your request has been processed, you will receive an email with instructions on accessing the report. Keep in mind that complimentary copies are only available for a limited time and are subject to change at Gartner's discretion. If you need access to a particular report on an ongoing basis, it is best to purchase a subscription.
Gartner for Technical Professionals
Gartner for Technical Professionals provides in-depth information and research for IT professionals in technical planning and decision making, architecture and design, and technology assessment.
It provides access to how-to guides, expert insights, and tools to help professionals make the right decisions to achieve their mission-critical priorities.
Gartner for Technical Professionals provides help throughout the project's lifecycle. It equips IT practitioners and technical teams with information across the entire project life cycle, from technical strategy to architecture to project execution.
Its service highlights include:
Technical planning
Technical architecture and design
In-depth product evaluation
Creating deployment strategy
Overall project execution
The Gartner Magic Quadrant
What is The Gartner Magic Quadrant, and Why Should You Care About it?
The Gartner magic quadrant is a report published by Gartner's research and advisory firm that provides an overview of the leading players in a particular market.
The quadrant is divided into four sections, with each unit representing a different level of capability or maturity. The quadrants are "Leaders", "Challengers", "Niche Players", and "Visionaries".
While the Gartner magic quadrant is not the be-all and end-all of market research, it is a valuable tool for understanding the competitive landscape.
If you're looking to make informed decisions about the future of your business, then the Gartner magic quadrant is definitely worth paying attention to.
How Does The Gartner Magic Quadrant Work?
Gartner assesses vendors on two criteria: completeness of vision and ability to execute.
The completeness of vision reflects the vendor's innovativeness and whether it is a leader or follower in the market.
Ability to Execute summarises elements such as vendor financial viability, market reactivity, product development, sales channels and customer base.
What Are The Different Types of Quadrants?
Gartner's magic quadrant graphically represents a market and segments it into four quadrants: Leaders, Challengers, Visionaries, and niche players.
Leaders are vendors with a clear vision of where the market is going and the ability to execute that vision. They typically have a broad product portfolio and a deep understanding of customer needs.
Challengers are strong and dominate a significant portion of the market, but they do not have a good feel for how the market is heading. They're usually not as innovative as the visionaries, but they're very good at executing their plans.
Visionaries are firms that have a clear vision of where the market is going and what needs to be done to get there. They may not have all the pieces in place to execute their vision yet, but they're investing heavily in research and development to make it a reality.
Niche players are businesses with a specialised focus on a particular market segment or product area that succeed well. They generally don't have the breadth of features and capabilities that the leaders or challengers possess. Hence, they do not always out-innovate or outperform their competition.
What Goes Into Making a Gartner Magic Quadrant?
Gartner analysts conduct extensive research on each vendor, looking at product features, customer satisfaction, and financial stability. They also speak to hundreds of customers to get feedback on their experience with the product.
Based on this information, they compile a list of "critical capabilities" that they believe are essential for success in that particular market.
Magic Quadrant analysts collaborate to grade and evaluate each vendor against the weighted criteria outlined in the approach. The Magic Quadrant position rating is derived from these scores.
Despite much criticism, Gartner does not provide precise vendor scores on components. This is because scores are based on quantitative and qualitative measures, making them non-mathematical computations.
Even if a vendor has fewer features than other vendors, it may receive a good score in Product/Service because the quality, uniqueness, and integration of its product/service elements are superior to those of other vendors.
In other words, scores are relative to the competition and do not represent solely one vendor's capabilities.
The scoring is generally explained in the Evaluation Criteria portion of the document. The strengths and warnings sections focus on significant areas where a vendor performed exceptionally well and poorly.
Gartner's Magic Quadrant is not an exact science, and there is often debate about where a particular vendor should be placed. However, the overall goal is to give readers a clear picture of the competitive landscape to make informed decisions.
What is the Difference Between Forrester and Gartner?
There are many firms in the BI sector, but Gartner and Forrester are two of the most prominent. How do they stack up against each other, where are they based, and what are they known for?
Gartner is a superior information technology (IT) research and consulting firm. It was established in 1979 and has headquarters in Stamford, Connecticut, USA. Gartner serves clients in The Americas, Europe, Middle East, Africa, and Australia through its offices worldwide and boasts of over 15,000 employees.
The company is renowned for its IT research that it publishes for its clients, who are mainly Fortune 500 companies. The Gartner Magic Quadrants and the Hype Cycle are two of its most popular market analysis and technology lifecycle data visualisers.
Gartner's annual revenue was $4.73 Billion in 2021, and it is expected to grow significantly in the coming years. The company employs over 15,600 people as of 2020.
Meanwhile, Forrester is a consulting firm based in Cambridge, Massachusetts, which has more than 1,700 employees.
In 2021, Forrester grossed $494 million in revenue. Forrester's clients include top executives, business strategists, and IT experts. They serve North America, Europe, and the Asia Pacific.
Their customer experience study is famous in the industry and has helped them become one of the leading research companies in the world.
Overall, Forrester predicts how changes will affect companies, customers, and society. They are renowned for their customer experience study. Forrester also has more small business customers than any other research company.
Forrester is buyer-focused, not vendor-oriented, and they are known for publishing the quarterly Forrester Wave Reports, which categorises companies into Leaders, Strong Performers, Contenders and Challengers.
Gartner's Goals and Achievements
Gartner's goals are to help clients make informed decisions about their information technology. They do this through their market analysis, which includes the Magic Quadrant and the Hype Cycle, and by providing research and consulting services. Gartner also aims to be the most influential IT research and consulting company globally.
Gartner is well-known for providing unbiased, high-quality consulting and research on the IT industry and sharing meaningful data and insights with the broader technology sector.
Gartner contributes to establishing and monitoring IT standards and market trends that will occur in the future through its more than 15,000 staff members. It is present in over 100 countries across the world and has a global reach.
They've also set the bar for business ethics and research quality while maintaining independence.
Gartner clients number more than 15,000 firms in several countries across the world. According to Fortune magazine, Gartner clients make up 73 per cent of the Fortune Global 500, which includes the top 500 businesses in the world. These firms, in their commercial strategies, utilise their services.
Conclusion
Gartner was created to provide high-quality and unbiased analyses of the fast-paced IT industry, and it offers vital information to the entire IT community.
Gartner has a global reach, with offices in over 100 countries, and it can forecast the current IT standards and market trends that will become a reality in the future.
They've become the gold standard for quality and ethics by maintaining high ethical standards and conducting deep study while remaining impartial with no conflicts of interest.
Gartner not only offers research but also tools and conferences to assist CIOs and IT executives navigate the rapidly changing IT environment; and gatherings to help gather leadership together to discuss critical business and technological choices.
Gartner is a valuable tool for individuals who want to stay ahead in the IT business. They have boldly established industry standards for what distinguishes a firm ahead in this competitive environment and researched technologies we will encounter tomorrow.
Founder of Uppwise, Gioacchino has solid hands-on, experience and vision in the PPM Market, gained as a startupper and founder of a number of software & cloud-services companies. During the last two years he has lead the company transformation, shifting from the offering of a traditional PPM product to a new suite of SPM, APM and CWM products.