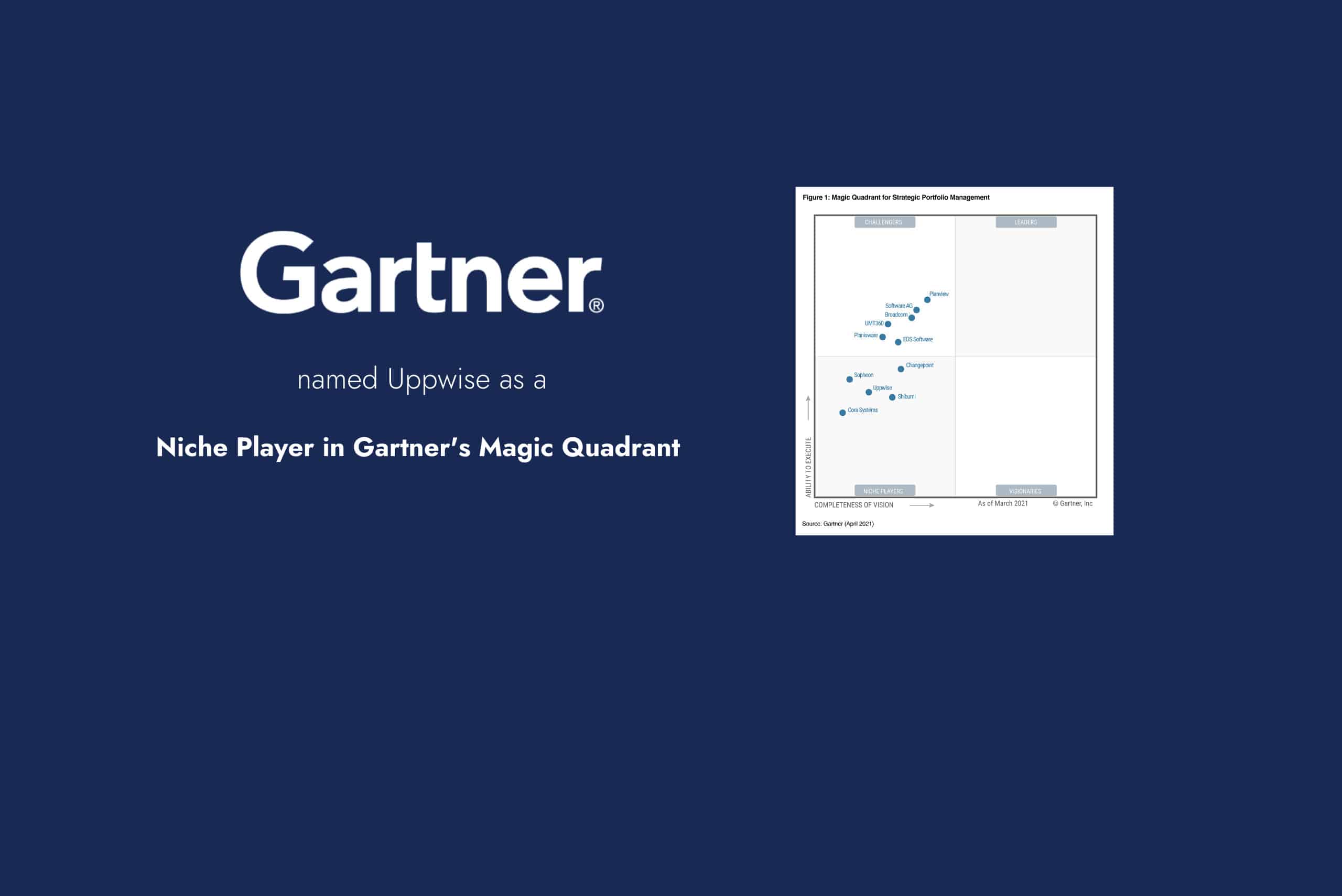 Magic Quadrant for Strategic Portfolio Management 2021
Uppwise placed as a niche player in the new Gartner's Magic Quadrant.
ITALY, September 30th, 2021 Uppwise, a leading provider of Strategic Portfolio Management Solutions, announced that it has been recognized as a Niche Player in Gartner's first Magic Quadrant for Strategic Portfolio Management (SPM). Analysts Daniel B. Stang, Mbula Schoen, and Anthony Henderson evaluated 11 SPM providers on 15 criteria to determine placement within the quadrant.
"We are extremely excited that Gartner included Uppwise in their inaugural Strategic Portfolio Management Magic Quadrant. This demonstrates that Uppwise is a leading SPM solution, supporting enterprisewide strategy-to-execution alignment and adaptation. We are committed to become a leading player in this emerging market" said Gioacchino Gaudioso, CEO of Uppwise.
Deployed on-premises and SaaS, Uppwise SPM offers a complete solution that connects work across the enterprise, turning ideas into strategies, plans, and action.
Uppwise also supports all of the three distinct SPM use cases defined by Gartner in their "SPM Critical Capabilities research" for 2021:
Strategy Execution Management (SEM) As strategic imperatives shift, Strategy leaders need the tools to continuously pivot strategy to deliver on the objectives of the business. Uppwise enables business strategists, steering committees and SROs to create strategies, aligning the enterprise around a common strategy framework, making sure strategic intents are actually pursued and adapted to create the expected value.
Enterprise Program & Portfolio Management (EPPM) Uppwise enables EPMOs to manage multiple portfolios to plan and track investments, programs, products, and the realization of expected business outcomes that are aligned with strategic themes and key goals.
Integrated IT Portfolio Analysis (IIPA) Uppwise enables IT Leaders and IT Portfolio Managers to associate strategic business objectives and expected business outcomes with a number of IT portfolios of programs and projects connected to assets and applications.
"Gartner defines Strategic Portfolio Management as a set of business capabilities, processes and supporting technology required for enterprisewide portfolio management and adaptation, as well as successful digital business transformation and scaling. IT leaders, business leaders and EPMO leaders all require SPM to support enterprisewide strategy-to-execution alignment and adaptation. SPM technology must allow each of these different leaders to engage in portfolio management activities and decision making in the context matching the role they play in portfolio management activities".
Main Strengths recognized by Gartner:
The new strategy module enables the management of various strategic elements such as themes, goals, key objectives, capabilities and value streams. The solution also includes full implementation of OKR Methodology from strategy to portfolio, and programs to projects.
New integration with Atlassian Jira or Uppwise's collaborative work management solution, Needful, enables the management of the dataflow from waterfall, Agile-Scrum or hybrid projects. A bidirectional integration enables a full dialogue between Jira and Uppwise SPM. Display Jira projects in an Uppwise SPM portfolio; capture task status, story points and actual efforts in Jira; and update project status in Uppwise SPM
Using a configurable Enterprise Governance Structure (EGS), Uppwise SPM allows the creation of master libraries in any language or according to any international standard within the same database. Each node of the EGS can be associated with a default currency and a preferred user language.
Strategic portfolio management and adaptive approach to management is the best solution to help organizations.
DOWNLOAD THE REPORT
Founder of Uppwise, Gioacchino has solid hands-on, experience and vision in the PPM Market, gained as a startupper and founder of a number of software & cloud-services companies. During the last two years he has lead the company transformation, shifting from the offering of a traditional PPM product to a new suite of SPM, APM and CWM products.